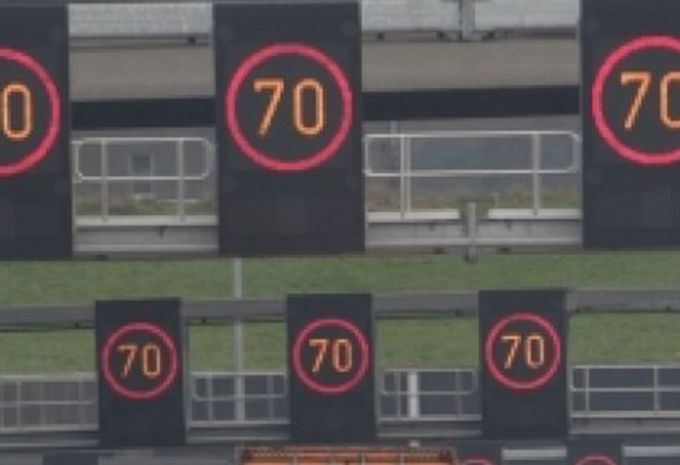 1 photo
Overview :
Federal minister of mobility Bellot does not only want the speed limit to 130 km/h and acceleration on the highway. He also wants to have variable limits entry by using dynamic road signs.
On the ring around Antwerp adjust dynamic traffic signs, like in the Netherlands or in Germany the speed limits in function of the traffic conditions. Since signs are posted, the sound pressure on the Ring around Antwerp are decreased. Federal minister of mobility, François Bellot want this type of dynamic signs to expand and at the same time, a limit of 130 km/h to enter on certain highways. The goal is to improve the flow of traffic. But the decision of the federal public service must be made by the regions to be applied.
Cooperation with the regions
In the new traffic regulations, which are currently being worked on, is the speed limit on the highway is a federal competence. Nonetheless, the regions decide on the application. Thus, it is not because the (federal) highway code provides that there is 130 km/h may be ridden, that that restriction everywhere is automatically applied. The regions themselves choose which pieces are appropriate, without any obligation to actually go. The same applies for the dynamic traffic signs. Certainly because there is still a considerable investment involved. But on such pieces would, in theory, the limit can vary between 50 and 130 km/h.
Safety and noise
The idea is to have the speed to adapt to traffic conditions, but also to the weather. That should be road safety benefit by abrupt remmanoeuvers to avoid. The lowering of the permissible speed can moreover have a favourable influence on the flow, as is evident from the blokrijden with us sometimes is applied. In addition, the pollution and the noise will be reduced in the vicinity of residential areas. That we already see in Germany, where speed limits are not always to be entered for the safety, but sometimes to the pollution pressures in urban areas or to the sound pressure on local residents to a minimum. Therefore have some limitations, for example only at night.
Dutch model
In 2012 decided to the Netherlands, the speed limit on the motorway from 120 to 130 km/h. Meanwhile, you may at 62 per cent of the highways there, 130 km/h. But those who regularly by our neighbors on the way, will determine that the limitations in the neighborhood of large cities, often with dynamic traffic signs to be regulated, so that sometimes you are on a highway with 5 lanes but 50 km/h. The goal is to make the traffic better to arrange and the accordeoneffect off as a result of motorists who have hard brakes when the tail of a traffic jam approaching. This system would reportedly have the time lost in traffic jams reduce.